Julián is a Mermaid is Jessica Love's award-winning debut picture book, published by Candlewick Press. Julián is a Mermaid is a story about a boy and his Abuela. It is a story about being seen for who we are by someone who loves us. The editor is Katie Cunningham, and the Art Director is Ann Stott. Hardcover, illustrated in gouache on brown paper. Julián is a Mermaid has been translated into fourteen languages: Catalan, Portuguese, Italian, Chinese, Danish, German, Spanish, Finnish, Norwegian, Swedish, French, Japanese, Dutch & Korean.
Copyright © 2018 by Jessica Love. Published by Candlewick Press.
Jessica is represented by Meredith Kaffel Simonoff, at DeFiore and Company.
Press for Julián is a Mermaid
(editor's pick)
This is Jessica Love's debut picture book, and every choice she makes — the spare text, a color palette both muted and lively, full-bleed pages that make even subway cars and apartment rooms feel as expansive as the ocean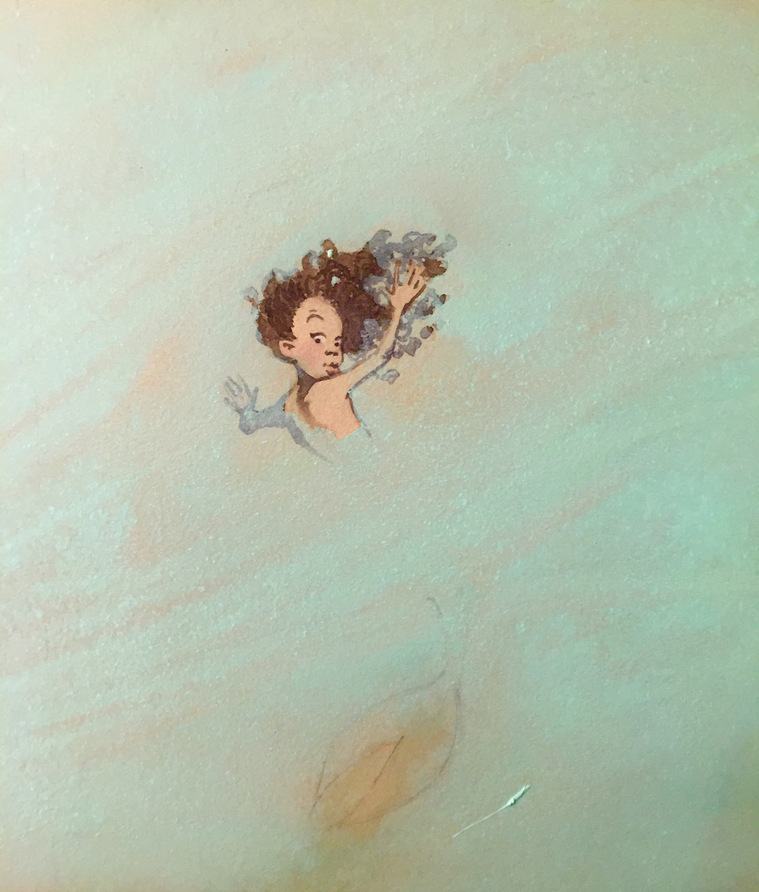 There is nothing about this book that is forgettable. In fact, you may have a hard time not thinking long and hard about it after you put it down.
(starred review)
Love's deep empathy for her characters and her keen-eyed observations of urban life come together in a story of love, understanding, and embracing the mermaid within us all.
(starred review)
Though it could easily feel preachy, this charmingly subversive tale instead offers a simple yet powerful story of the importance of being seen and affirmed.
(starred review)
Love does a particularly fine job with the face of Abuela, a reticent woman whose years have left her with Resting Skeptical Face that changes almost imperceptibly when she blesses her grandson's dreams...
(starred review)
Julián's emotional journey takes on depth through the small but important details: a wary look in the mirror, a slight inward slump of the shoulders, a chin held high while marching down the street. Love uses vibrant watercolors with gouache and ink and a lively style to create scenes that splash and swirl to life on the page.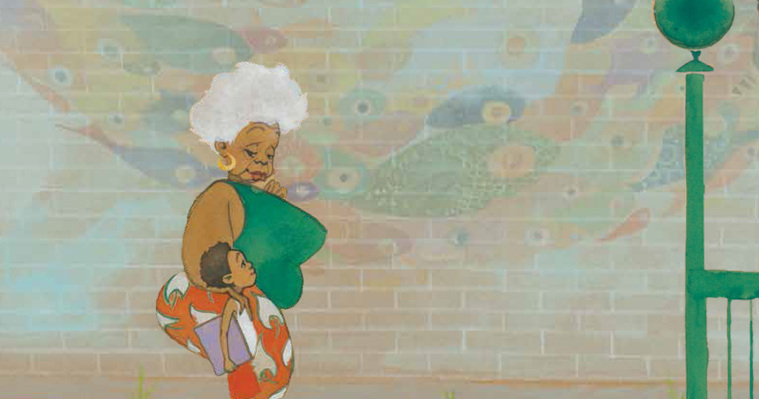 "This beautiful book is one of the very few picture books about a gender non-conforming child. Yet it feels like a celebration of all children who want to do things differently than the parental figures in their lives—and a love letter to the grownups who deeply understand them."
Recently, the boys have been really into a new-to-us book: Julián Is a Mermaid, the story of a little boy who wants to dress up like a sparkly mermaid. The illustrations couldn't be more beautiful, and I love how Julián's grandmother accepts him for exactly who he is.
All inquiries regarding publication should be directed to
On being a white, cishet artist creating outside my experience...
After a recent interview for Teaching for Change, I was encouraged to adapt a portion of the interview into a post on my own site. I'm including the two questions I get asked a lot, and their responses, below.
1. "Why did you choose to write Julián? What inspired the book?"
I'm never really sure where to begin when answering this question, because the making of this book was such a big process for me, with a long gestation period, so there are many, many tributaries flowing into the larger river that became Julián is a Mermaid, and it's difficult to name a single source of inspiration, so I'll name several. I'm an actor by training, and I think there is a predisposition in professional make-believers to slip into other experiences outside your own. I've always been curious about gender and have always had a pretty skeptical attitude around gender constructs and constraints-- the themes in this book are questions which have always interested me. But back in 2012, shortly before I had the idea for the book I began a relationship with a man who's eldest brother is trans, and he had transitioned maybe a year before I met their family. So I was getting to know this family while they were all navigating this big change, and I remember one of the questions that kept getting asked was, "how should we explain this to the little kids in the family?" This got me really curious about what kind of literature there was out there that swam in the waters of gender and identity but that felt like it was told from inside a child's experience, rather than at the child.
Drag, voguing and the NYC ball circuit were also huge sources of inspiration for me. Drag is professional make-believe, it's the same kind of dead-serious play that children do, it's that level of commitment, of exuberance and I think it is a similar alembic for transformation. The iconic documentary, Paris is Burning was an enormous inspiration for the story. So many of the young people who are interviewed in that film had experiences of being thrown out of the house, of being rejected by their birth families simply for being who they were. In some ways I think this story was for them--the ones I would never meet, but who inspired me across time and space. I wanted to make a story about the moment in which a child reveals something essential about who they are, and they are recognized with love. It's a story about belonging.
2. "What comments, if any, would you like to make as a white author who wrote a book that tells the story of an Afro-Latinx family?"
My greatest fear about being a white, cishet woman creating this particular story was this imagined scenario: that someday someone would pick up my book because they saw themselves in it, and would feel some sense of opening, maybe even of healing through reading it...and then they would discover my background and they would feel betrayed, maybe even re-traumatized by white, cishet person taking a story that doesn't belong to them. Or that, because the story was being filtered through my lens it would include harmful stereotypes that I wouldn't catch, because to me they'd be invisible. I thought about these questions ceaselessly during the 6 years I worked on the book. Do I have the right to tell this story? Is this cultural theft? Will I be doing more harm than good? Am I taking some other author/illustrator's spot? To this day I would say I spend a solid chunk of my thinking-time on these questions, and none of them have simple answers. However, at the end of the day I decided to make the book, rather than not make it. I think my decision to proceed ultimately came down to this: while the characters' backgrounds are different from my own, the essence of the story I was trying to tell is about the longing to be seen. And that is something I do know.
I've heard other artists describe the initial jolt of inspiration almost as a kind of visitation. It does seem to me that ideas/stories/characters have a way of choosing the artist. And that part isn't really up to you. It's a mystery, and you have no control over when an idea will come, or what the idea will be, but when it happens to you, you KNOW it. There is an electric current running through it, and it comes with a palpable sense of urgency. This is what happened to me with the idea for Julián is a Mermaid: I saw a little kid who looked like my partner at the time when he was small, sitting on the train with his grandmother, and having an encounter that opened up the world to him. That was the initial egg of the idea that landed with a plop in my hand.
The tug of this idea was very, very strong and I felt responsible to the story--I felt I had to give it form in the best way I knew how. However, I knew that as the storyteller I came with limitations to my experience--my whiteness, my cis-ness, my straightness, my privilege--and it was my job to be as rigorous and thorough as I could in filling in those lacuna, in learning to see with Julián's eyes. You know, it really is a mothering energy --Julián is real to me, he is the child of my imagination, and I wanted to protect his story like a mother would. That meant protecting him from my own limitations. Necessarily this involved work in excavating my own point of view, my own internalized white supremacy delusions, all my own invisible biases so that Julián's story could be told as fully as was possible, given the fact I was the artist who would be doing the work of making him real to the rest of the world. I did research. I spoke with people. I watched and listened and examined myself. I've never cared so deeply about getting something right as I did this story. I drafted it again and again. I tried to bring thoughtfulness to every aspect of the book--from painting on brown, rather than white paper, to making sure every character felt like they were at the center of their own story, to the flow of water and fluidity throughout the illustrations. I don't know if I got it all right, but I know I brought the best of myself to the effort because picture books are deep stuff, and it's a big deal to get in on the ground floor of a child's developing mind. I wanted make sure my offerings were doors, windows and mirrors.
Lastly, I will say that as a part of my accountability practices I use a portion of my income from Julián is a Mermaid to support Black Lives Matter, Stacey Abrams' excellent work with FairFight2020, The Okra Project and wherever I can I try to help bring authors and illustrators who are far less represented in the publishing industry to the attention of my editors, publishers, agent and the larger reading public.